Scheduling Jobs is Now Easier with ShiftWorx™ MES
Save Time and Money with ShiftWorx™ MES Digital Production Scheduling!
Commonly used spreadsheets or paper-based job schedules are difficult to manage, maintain, distribute, and access.  ShiftWorx™ MES production scheduling provides a centralized digital scheduling solution that significantly improves the speed to optimize jobs and ensure machines / workstations are fully utilized.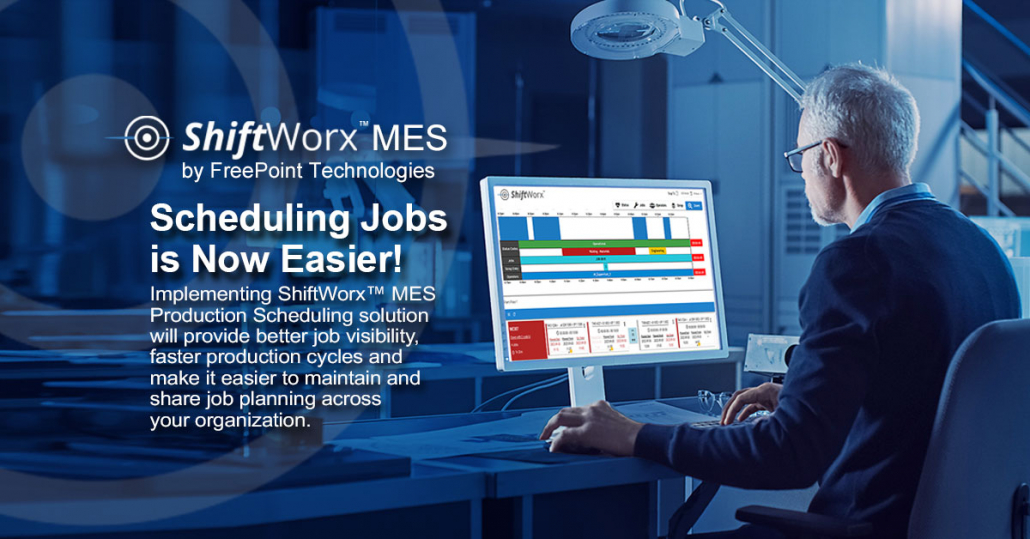 Click to download the brochure to learn more: PDF Download
See a Live Demo of ShiftWorx™ MES Next Week at FABTECH 2022!

Meet the FreePoint Team and see a demo of ShiftWorx™ MES and the new Production Scheduling add-on November 8-10 in Booth A1917.  Register for free, it's on us – use the Promo Code "FBGUEST" with this link before November 4, 2022: www.fabtechexpo.com
Paul Hogendoorn, FreePoint's founder will be sharing FreePoint's insights in the Smart Manufacturing Track's Surviving Technology and Labor Challenges in Digital Manufacturing session.  He will be presenting on the "Key Manufacturing Problems Solved by MES SaaS" in your transition to Industry 4.0.  We're looking forward to seeing you there, safe travels!
Learn more about ShiftWorx™ MES: https://shiftworxmes.com/products-mes-saas/
#productionschedulingsoftware @fabtechexpo #fabtech2022 #SmartManufacturing #Industry40 #MachineMonitoringSystem #IIoT #ManufacturingExecutionSystem #MESsystem #ContinuousImprovement #ManufacturingAutomation #DowntimeTracking #OEE #LeanManufacturing
https://shiftworxmes.com/wp-content/uploads/2022/11/ShiftWorx-MES-Production-Scheduling.jpg
628
1200
admin
http://shiftworxmes.com/wp-content/uploads/2022/10/Logo.png
admin
2022-11-02 11:11:02
2023-05-15 13:56:14
Scheduling Jobs is Now Easier with ShiftWorx™ MES