How Manufacturing Is At The Cutting Edge
The world of industry and technology are merging and expanding exponentially, forming a connected network of people and machines that maximize productivity, innovation, and possibility. For those of us in the manufacturing industry, we're living in amazingly exciting times, but it's certainly not without the fear that we might get left behind.
Moore's Law is the belief that the processing power of computers doubles every two years. But recent advances in Artificial Intelligence, Virtual Reality, and Augmented Reality have progressed with such processing power to literally blow Moore's Law entirely out of the water.
Woah! Slow down
All this progress can feel a little intimidating, to say the least. But there's a huge amount to be excited about.
The "inter-connected factory" is a conduit between our existing manual (and digital) machinery and the productivity of our people. Through machine-monitoring technologies, these innovations provide real-time oversight of the entire manufacturing process that helps us to increase productivity and efficiency in a way never before possible.
Let's Put This All Into Context –
First, we had steam and the first wave of mechanization. It was met with initial panic because it was believed that the machines would put workers out of work. Whole gangs of Luddites gathered together to protest and smash up the machines. Nonetheless, progress overcame, and human labor found new roles within the same industries.
Next came electricity, assembly lines, and the advent of mass production. Machines became more powerful, able to produce more, with higher efficiency, and in new ways. It was met with initial panic because it was believed that it put jobs at risk. But, again, industry adapted, and human resources were redeployed in new areas made possible by the new paths that those innovations had forged.
Then came computers and the introduction of robots onto the production line. Again – met with initial panic that humans were going to lose out.
There's a Pattern
So, there's a pattern, here. And it's understandable.
But manufacturing has always embraced change, and has always been at the cutting edge when it comes to the application of new technologies. And as technology frees up human resource, we find new ways to re-deploy the unique skills and talents of the workforce.
Utilizing the Unique Skills of the Workforce
Where machines have made production more efficient, human labor has become more valuable in skilled areas; employing potential, rather than just headcount.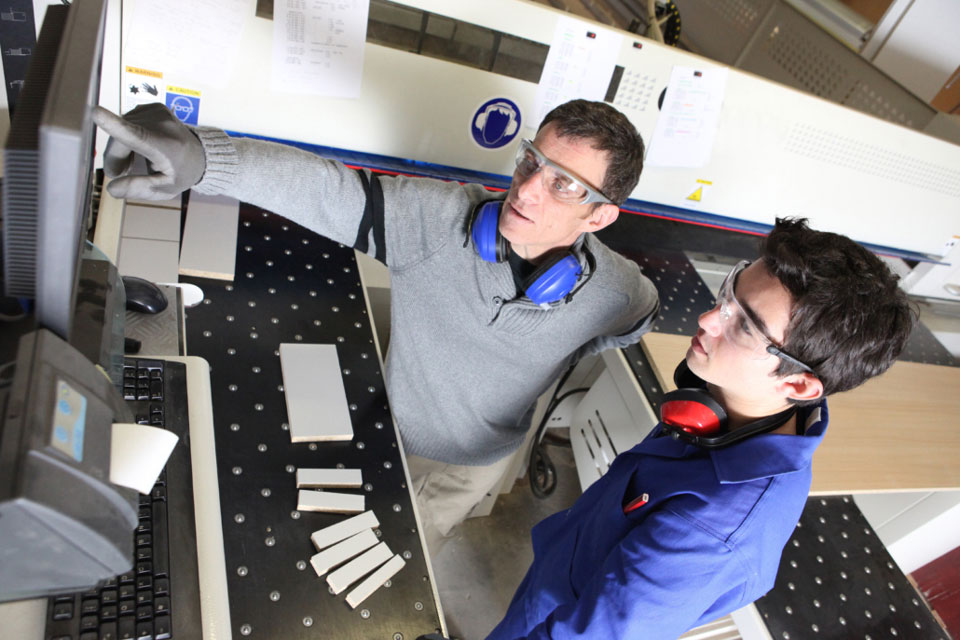 Machine Monitoring
Machine monitoring is the next leap forward in mechanization, unifying repetitious machine-driven processes with the workforce while creating a monitoring system that consolidates human and mechanical processes together in a data-center that provides a real-time window into the productivity of your factory.
Machine monitoring is compatible with old-school, manual machinery and up-to-the minute networked machines alike. It creates a digital infrastructure that connects real-time production efficiency with the needs of your customers, helping you to avoid the big 7 (or in our case 10) wastes of manufacturing. It helps empower your staff by allowing them to monitor their own productivity, and gamify their work-day to add a little competitive spirit into their daily role.
Machine monitoring provides you with a real-time oversight of the entire production line – letting the machines tell you when they require maintenance; recognizing areas in production that are over-producing or under-producing; and using the interchangeable skills of the workforce to keep production at maximum potential.
And the future?
The future never stops, of course. And manufacturing will continue to evolve, finding new ways to employ the unique talents of the individuals we employ.
The truth of the matter is that to stay current, you need to look ahead – and consider human and machine as allies. The evolution of production is something to embrace, to protect the jobs and the securities of those we employ.
FreePoint Technologies has a comprehensive suite of machine monitoring technologies that help you stay at the forefront of manufacturing innovation.

http://shiftworxmes.com/wp-content/uploads/2022/10/Logo.png
0
0
admin
http://shiftworxmes.com/wp-content/uploads/2022/10/Logo.png
admin
2018-03-06 14:51:15
2023-05-19 14:40:00
How Manufacturing Is At The Cutting Edge