Machine Monitoring Costs Less Than You Think
For any business, the process of implementing any new technology can often seem like a costly and time-consuming task. Industry 4.0 and machine monitoring is no exception.
Emerging technologies and existing technological advancements are paving the way for a revolution in the manufacturing industry; but how much does being a part of this revolution cost? Well, that depends on the technology.
Why Bolt-on Solutions Are Less Expensive
Unlike robotics, AI and fully automated factories, machine monitoring is relatively inexpensive. Instead of the intensive and often costly installation of AI and robotics, machine monitoring can be installed with minimal cost and disruption to machine operations. Rather than having to alter or rebuild existing infrastructures, bolt-on monitoring solutions like our ShiftWorx Platform are bolt-on, making them extremely simple to incorporate on the shop-floor.
By installing our hardware without disrupting machine production, we can provide a cost-efficient solution that saves you money and never contributes to machine downtime. By maintaining a low overhead cost, our solutions also experience impressively quick ROI. In fact, one of our clients managed to achieve an additional +160 hours of machine output per month—both saving and making them a lot more money in the process.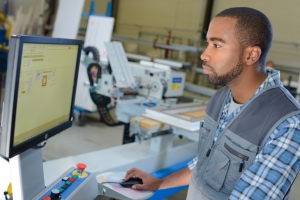 When manufacturers are asked what their plant utilization rate is, most plant managers give an answer anywhere between 65-75%. In most cases after machine monitoring is implemented, the actual percentage is revealed to be closer to 25-32%. That massive variance illustrates how quickly machine monitoring solutions can help manufacturers save on production costs, helping payoff the system in days rather than months and years. Once switched on, machine monitoring solutions instantly start paying themselves off.
Overall, transitioning to IIoT doesn't have to break the bank. By piggy-backing off existing infrastructures as opposed to rebuilding them, machine monitoring can be an attainable and inexpensive means of innovating your production process and enhancing your plant's productivity.
Get a free quote today and find out for yourself how attainable IIoT can be for your organization.
http://shiftworxmes.com/wp-content/uploads/2022/10/Logo.png
0
0
admin
http://shiftworxmes.com/wp-content/uploads/2022/10/Logo.png
admin
2019-06-05 10:03:02
2023-05-19 13:28:42
Machine Monitoring Costs Less Than You Think