See Us at the Furniture Manufacturing Expo with TexTempo
FURNITURE MANUFACTURING EXPO 2022
Bringing Together Suppliers and Manufacturers of Home Furnishings.
Meet the TexTempo and FreePoint Team this Wednesday, July 20 and 21 in Hickory, North Carolina at the Hickory Metro Convention Center BOOTH 1514:
www.furnituremanufacturingexpo.com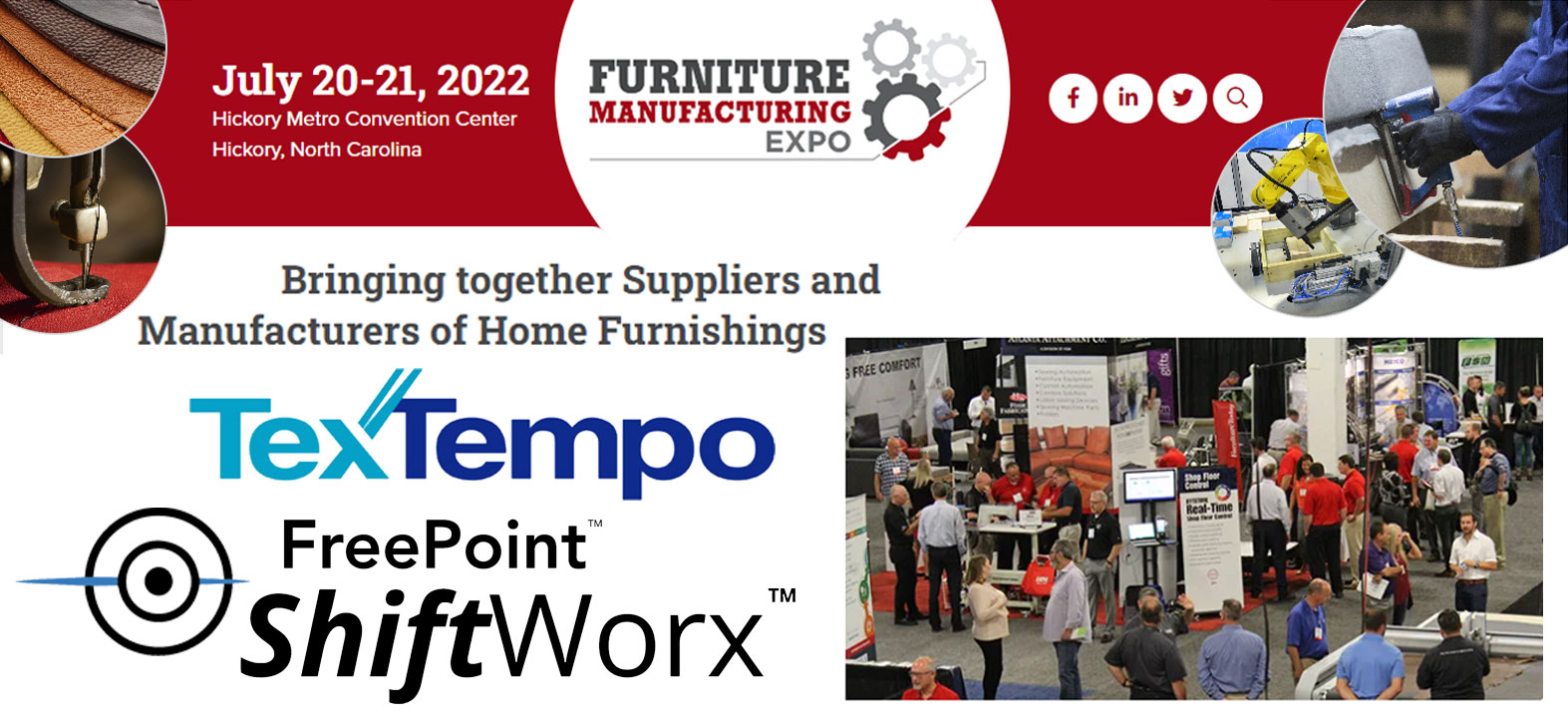 FreePoint Technologies' partner, TexTempo, is fanatical about the Factory Floor and helping Furniture Manufacturers optimize production through Real Time Digital Tools.  TexTempo's solutions are focused on delivering immediate visibility of all key metrics, allowing manufacturers to avoid mistakes and seize opportunities, resulting in reduced costs, improved quality and throughput while increasing customer satisfaction.
TexTempo is led by two sewn products industry veterans, and is dedicated to accelerating the digital transformation of sewn-products and soft-goods manufacturing through technology, consulting and support services.  TexTempo combines decades of manufacturing expertise with the latest automation technologies to help producers of apparel, automotive interiors, home furnishings, furniture, mattress and other textile-based products to achieve greater operational efficiency and profitability.
Learn more about TexTempo:
www.textempo.com
ShiftWorx™ MES:
https://shiftworxmes.com/products-mes-saas/
#FurnitureManufacturing #SmartManufacturing #Industry40 #MachineMonitoringSystem #IIoT #ManufacturingExecutionSystem #MESsystem #ContinuousImprovement #ManufacturingAutomation #DowntimeTracking #OEE #LeanManufacturing
https://shiftworxmes.com/wp-content/uploads/2022/07/Furniture-Manufacturing-Expo-Banner-Blog.jpg
628
1200
admin
http://shiftworxmes.com/wp-content/uploads/2022/10/Logo.png
admin
2022-07-18 13:34:23
2023-05-15 15:10:20
See Us at the Furniture Manufacturing Expo with TexTempo