Machine Downtime Narration is About Listening to Operators, Not Watching Them
FreePoint's Narrative – it's not management watching operators, it's management listening to operators!
As the Co-Founder and Chairman of FreePoint Technologies, I often find myself speaking with curious prospects who ask a few similar questions:
"how does it work?" (how does it increase productivity)
"how do the operators feel about being monitored?"
The Narrative Application works because it encourages management to listen to their operators, not watch them.
The machine data collected from the ShiftWorx system tells management everything it needs to know about the performance of a machine when it is producing parts. However, the best source of information regarding periods of time when the machine is not producing parts is the operator. Before Narrative was connected to a machine, there were no effective, operator-friendly ways of collecting that valuable operator sourced information.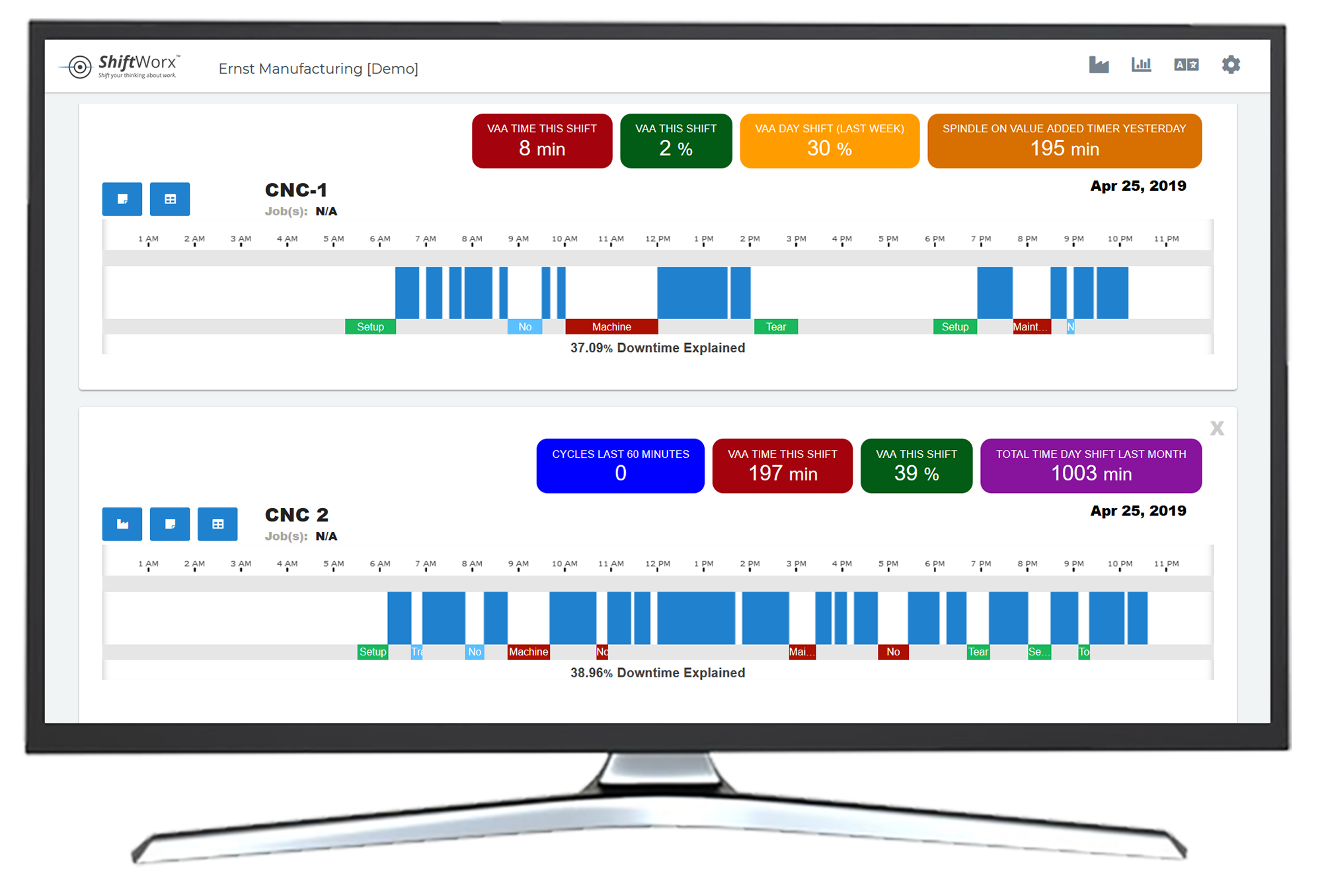 Narrative Showing Downtime Periods Explained With Reason Codes
Our Narrative solution allows every customer to easily create their own down time categories and conditions unique to their process and company. Many customers often have a list of events they want to track, but since they track them manually, the events are not captured or reported accurately, nor in real-time. Narrative automatically sets the time boundaries of the event and requires only a simple click on the downtime period to associate the condition to the event. Simple. Quick. Accurate. The result is empirical and actionable information on demand, at the click of a mouse or touch of a finger.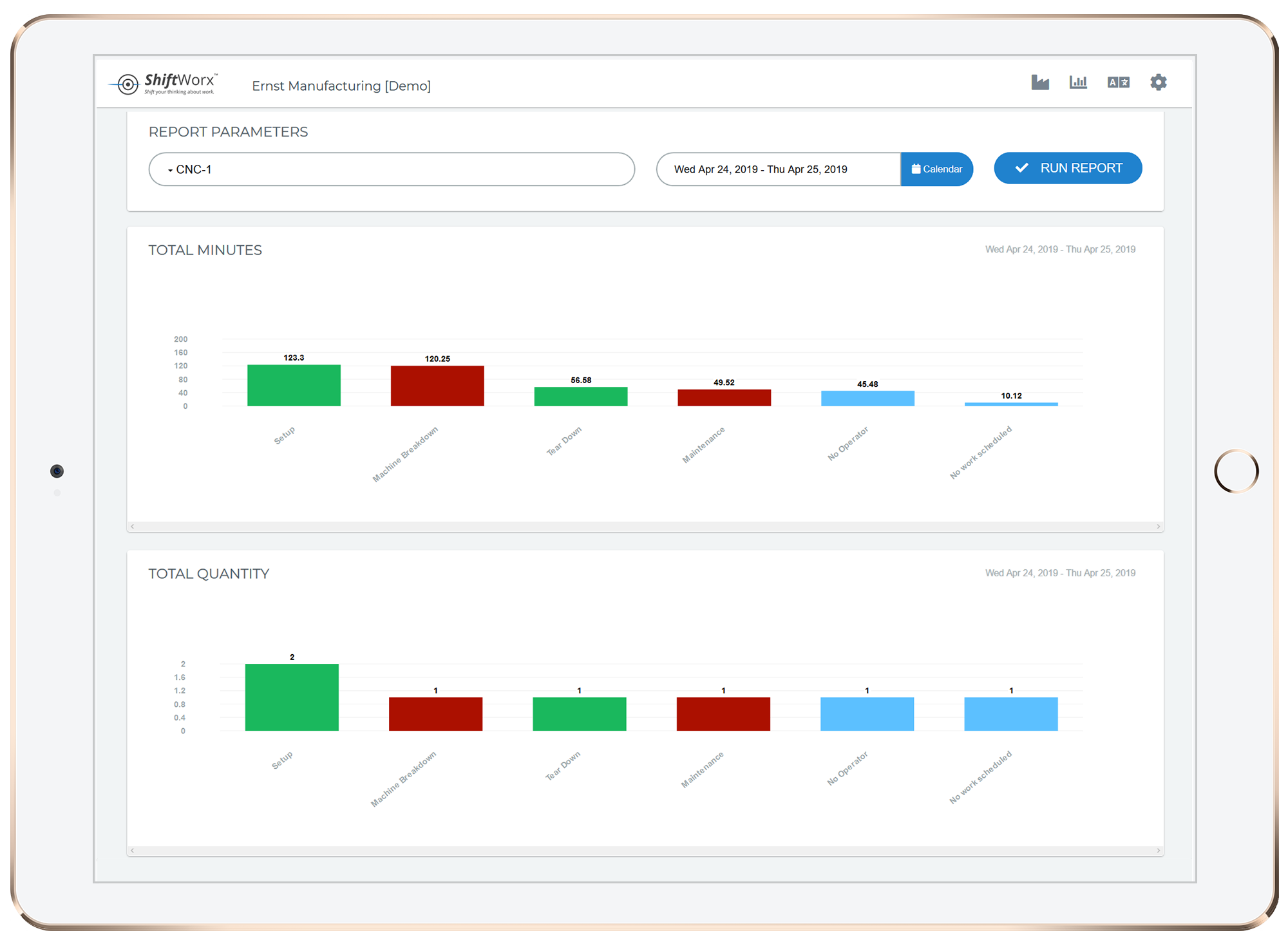 Sample Downtime Report Summary Showing Downtime Codes/Events by Minutes and Frequency
The important part: putting these insights into action in a way that ensures management is listening to its operators, and not simply monitoring machines.
Operators will have their own list of things they believe prevent them from doing a good job. "Looking for tools" is an example I hear often from operators and is a great example of an opportunity to put insight into action right away. A small investment in tools, toolboxes, or tool boards will deliver a quick return on investment right away with saved downtime and will demonstrate that you not only value employee input, but listen to it.
Reason codes entered in Narrative provides a real-time explanation for bottlenecks in your process. Quick response changes have a huge impact; you no longer have to wait 2-3 days to discover what is actually happening on your plant floor and more importantly, the changes that need to be made.
Our studies have shown that simply measuring and displaying up-time in a meaningful and relevant way results in immediate productivity improvements of 10% – 15%, and fully engaging your operators can result in an additional 10% – 15% improvement. (not sure how to do that? Just ask us!)
If you are using FreePoint's ShiftWorx system to monitor machine up-time, take the next step to understand why your machines are down and to shine the light on the bottlenecks preventing improvements to your production.
If you don't monitor your machines with ShiftWorx, what are you waiting for?
Check out the following videos if you are interested in knowing more about Narrative or the ShiftWorx Platform.   

http://shiftworxmes.com/wp-content/uploads/2022/10/Logo.png
0
0
admin
http://shiftworxmes.com/wp-content/uploads/2022/10/Logo.png
admin
2019-07-24 13:00:54
2023-05-19 13:26:45
Machine Downtime Narration is About Listening to Operators, Not Watching Them