FreePoint Featured in CIO Applications Top 10 Manufacturing Solution Providers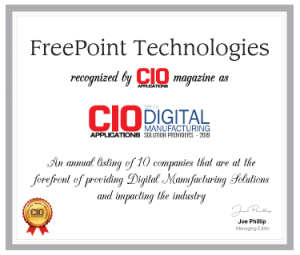 FreePoint Technologies is proud to announce that we have been featured in CIO Applications' Top 10 Digital Manufacturing Solution Providers.
Our Senior Vice President, John Traynor, sat down with CIO Applications to discuss how FreePoint differentiates itself while addressing the needs of manufacturers and ensuring the security of their data.
Referencing our ShiftWorx Platform, John explained how we "enable operators to monitor machine performance in real time and document any shortcomings with the click of a button or the tap of a screen", while maintaining a lower cost than most competitors. As the article outlines, the ShiftWorx platform is installed non-invasively and can take as little as 30 minutes to set up, making it easy to retrofit onto any machine, and keeping implementation costs low.
By avoiding physical connections between ShiftWorx and the machines, FreePoint can mitigate the risk of cyber-attacks:
"FreePoint's non- invasive solution involves using sensors instead of attaching hardware to a programmable logic controller (PLC). The solution does not interfere with machine operations nor is it a vector for cyber-attacks on the machinery."
Read the article for yourself to learn more about how FreePoint is helping to revolutionize the manufacturing industry.
http://shiftworxmes.com/wp-content/uploads/2022/10/Logo.png
0
0
admin
http://shiftworxmes.com/wp-content/uploads/2022/10/Logo.png
admin
2019-05-01 01:00:38
2023-05-19 13:44:27
FreePoint Featured in CIO Applications Top 10 Manufacturing Solution Providers