You Can Connect All The Machines On Your Shop Floor Today!
You've likely heard the term Internet of Things (IoT) in reference to smart home technology but how does it relate to your shop floor? In its simplest definition, IoT means "things" that are connected to the internet, physical objects such as your home, office or car. In smart manufacturing, it's known as Industrial IoT (IIoT) or Industry 4.0, the fourth industrial revolution. It provides manufacturers with the ability to connect all machines and equipment in their plant to the internet to gather real-time, actionable data. With Freepoint, connecting machines is quick and easy on both legacy and new machines.
Don't Wait To Connect Your Machines To The Internet
According to the McKinsey Global Institute, the number of factory machines connected to the internet has grown by 300 percent in the last five years, which shows how fast it's being implemented around the industrial world. Most manufacturers want IIoT capable machines in their factories for greater energy efficiency and to optimize machine tracking, but it's not feasible to buy new industrial machines every few years to keep up with the latest technology.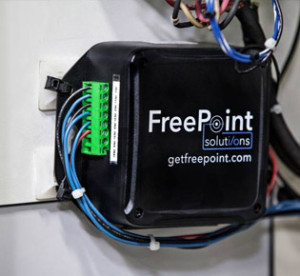 While it's easy for brand new plants to install connected machines in their factories from the start, what do you do when 85 percent of your plant's equipment is 10, 20, or even 30-years-old? One of the biggest hurdles manufacturers face is connecting legacy machines to the internet. But it IS possible. Secure sensors can be installed on any machine for monitoring a range of functions, delivering performance data, and tracking assets as well as employees on the shop floor.
Move Your Shop Floor Into The Future
Leveraging IIoT technology allows you to connect, monitor and control virtually anything, anywhere and drive operational productivity and profitability including:
Machine-to-machine communication: Connected machines work more efficiently together, creating greater productivity and predictability.
Operations Optimization: IIoT provides access to real-time data from every aspect of the process, improving outcomes through analysis and action.
Proactive maintenance: By monitoring machines through a central platform, you can predict slowdowns, bottlenecks, and machine failure, resulting in more uptime and lowering operating costs.
Remove data silos: Data streams help other departments make decisions based on what is happening throughout the entire plant, from orders to fulfilment.
With our IIoT software, FreePoint can connect any machine on your shop floor and can start collecting data within 24 hours. Really, any machine with electrical current can be monitored. The oldest machine we have connected was built in 1918 and, yes, it's still being monitored. Are you trying to figure out how to get all the information from every machine, not just the new ones? Chat with us about connecting machines today!
http://shiftworxmes.com/wp-content/uploads/2022/10/Logo.png
0
0
admin
http://shiftworxmes.com/wp-content/uploads/2022/10/Logo.png
admin
2018-07-11 11:11:23
2023-05-19 14:35:13
You Can Connect All The Machines On Your Shop Floor Today!