FreePoint Joins BC FOOD & BEVERAGE
FreePoint has the right ingredients for Food & Beverage Manufacturers to GROW, and we're proud to bring the ShiftWorx™ MES solution to the members of the BC FOOD & BEVERAGE Association.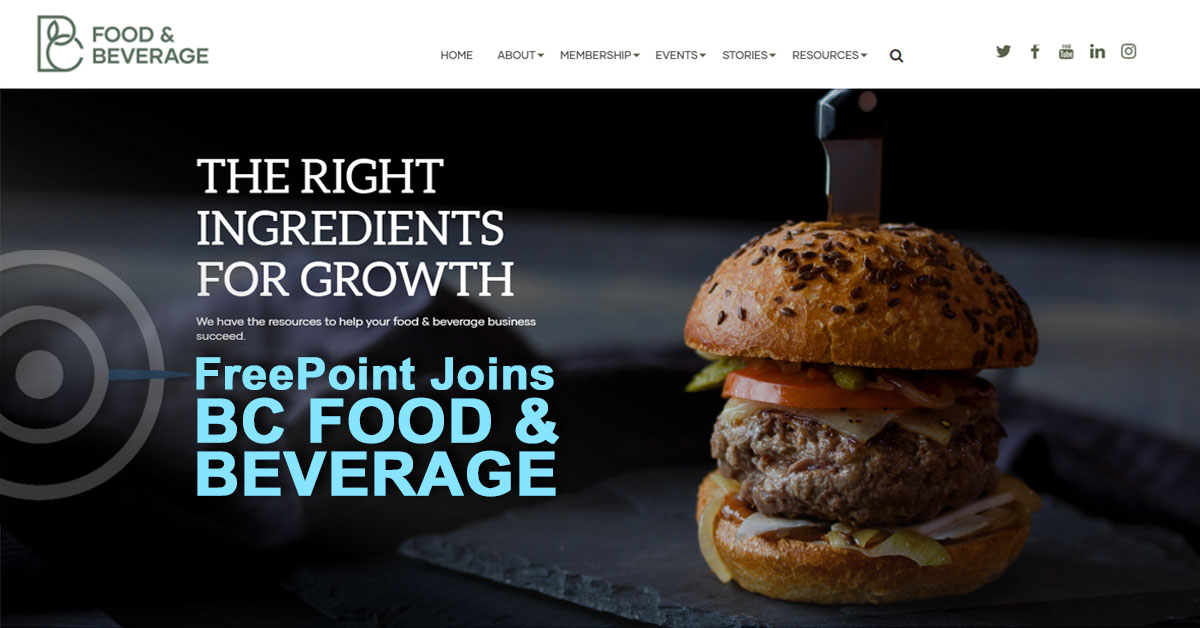 BC Food & Beverage is a not-for-profit industry association representing food and beverage manufacturers in British Columbia, Canada, whose membership represents approximately $7 billion in industry revenues.
Since 2004 BC Food & Beverage has helped shape, support and grow thousands of food & beverage businesses from start-up to multi-national companies. Their job is to engage and help its members in practical and meaningful ways.
BC Food & Beverage's strong network, values based approach, and unparalleled industry expertise allows them to support its members in every stage and area of their manufacturing business. Their goal is to provide food and beverage manufacturers with the right ingredients for growth!
Learn more about BC FOOD & BEVERAGE:
https://bcfb.ca/
Make smarter decisions faster with FreePoint's ShiftWorx™ MES software, a shop floor optimization solution that enables efficiency and collaboration via visualized data that is essential for continuously improving manufacturing.  Increase productivity by way of engaged employees, ShiftWorx™ proven Industry 4.0 technology is deployable within days and paid back within months.
The optimization of your shop floor can begin as a low-cost, low-risk pilot project that:
Cloud-connects ANY machine of any age, type or brand.
Is rapidly deployed in less than 5 days.
Increases your shop floor productivity by 50%.
Achieves 30% decreased machine downtime.
Achieves 20% improved employee engagement.
Offers a fast ROI in less than 3 months.
Learn more about ShiftWorx™ MES:
https://shiftworxmes.com/products-mes-saas/shiftworx-mes-software/
ShiftWorx™ MES Bottling Industry Case Study:
https://shiftworxmes.com/freepoint-resources/application-notes/bottling-lines/
FreePoint was established on the simple notion that every process, in every factory, can and should be monitored and measured.  We work with all levels of manufacturing to create smart factory connections that facilitate detailed data collection and analysis, ensuring that your operational decisions are based on up-to-date and relevant metrics.  We strive to help manufacturers cloud-connect their machines, and engage their workforce in the process. Contact us today for your industry specific free consultation and software demo.
#FoodAndBeverage #SmartManufacturing #Industry40 #MachineMonitoringSystem #IIoT #ManufacturingExecutionSystem #MESsystem #ContinuousImprovement #ManufacturingAutomation #DowntimeTracking #OEE #LeanManufacturing
https://shiftworxmes.com/wp-content/uploads/2022/07/FreePoint-Joins_BC-FOOD.jpg
628
1200
admin
http://shiftworxmes.com/wp-content/uploads/2022/10/Logo.png
admin
2022-07-27 10:48:36
2023-05-15 15:08:31
FreePoint Joins BC FOOD & BEVERAGE