Announcing ShiftWorx Plus – Your End-to-End Machine Monitoring Solution
 A Machine Monitoring Solution that Tracks the Metrics that Matter Most to Manufacturers
FreePoint Technologies announces the release of their newly updated platform, ShiftWorx Plus, which will help manufacturers increase production by nearly 50%
London, ON – March 13th, 2020 – FreePoint Technologies, an award-winning industry leader in the industrial internet of things, announces the release of ShiftWorx Plus; an advanced machine monitoring solution that manufacturers are using to greatly increase their production capacity. Existing customers using FreePoint ShiftWorx have seen production improvements of up to 50%. Now, in addition to tracking and explaining machine downtime, manufacturers can use the new product to track production and machine uptime by job, part, and operator, and to document scrap, workorders and more. Now manufacturers can significantly increase the amount of actionable data being collected.
With ShiftWorx Plus, manufacturers see machine data presented in easy-to-understand dashboards that can be tailored to operators, supervisors and managers. With live, actionable data immediately visible on the shop floor, workers and managers alike become more engaged and can quickly take action to keep production moving at full speed. Collecting more data leads to richer reports, and deeper insight into the manufacturing process—highlighting nay bottlenecks that are present. And by displaying relevant metrics for everybody to see, manufacturers can produce more with less while driving meaningful, continuous improvement throughout their shop. With highly flexible configuration options, each manufacturer can scale out a ShiftWorx Plus solution that's tailored to their unique needs.
"Customers are telling us ShiftWorx Plus is a game changer" says John Traynor, CEO of FreePoint Technologies:
"We're always looking to provide manufacturers with the metrics they need to be successful. With the latest addition to our machine monitoring platform, we're helping manufacturers better understand their data, while getting a 360° view of their downtime."
Manufacturers can use FreePoint ShiftWorx Plus to identify and eliminate bottlenecks, inefficiencies and production issues within their shops. Now, manufacturers can experience end-to-end visibility on their shop floor, with no blind spots.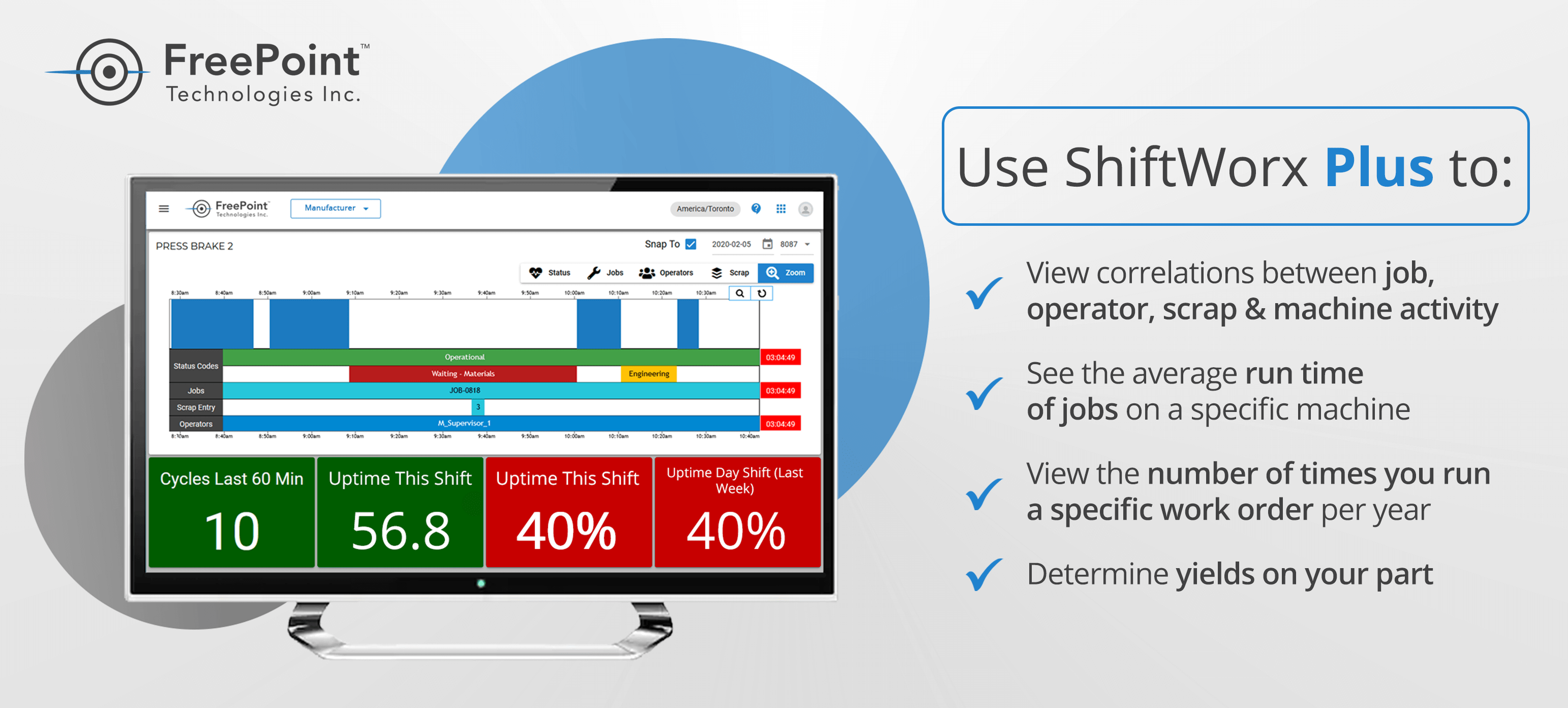 Connect with FreePoint Technologies
About FreePoint Technologies:
FreePoint Technologies is a leading industrial internet of things and Software as a service (SaaS) company based in London Ontario. Collecting, monitoring and visualizing data for successful, growth-oriented manufacturers; FreePoint puts vital analytics in the hands of management and operators to improve efficiency, enhance employee engagement and fuel sustainable growth.
FreePoint delivers real-time productivity information, connecting manufacturing processes directly to managers and operators in innovative, practical, and cost-effective ways. The ShiftWorx platform allows customers to identify actionable information in the factory and share it effectively with the people that can make an immediate difference.
###
For more information on FreePoint Technologies ShiftWorx Plus, or if you would like to schedule an interview, please contact:
Lisa Bailey | Director
Phone: +1 800.682.0486 x240
Email: lisa.bailey@getfreepoint.com
http://shiftworxmes.com/wp-content/uploads/2022/10/Logo.png
0
0
admin
http://shiftworxmes.com/wp-content/uploads/2022/10/Logo.png
admin
2020-03-13 10:58:48
2023-05-19 13:03:50
Announcing ShiftWorx Plus – Your End-to-End Machine Monitoring Solution